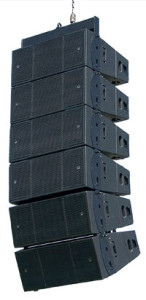 The team at Totally Sound are excited to announce the arrival of their newest system – the Turbosound Flex Array System.
Comprising sixteen TFA600H mid-high-line enclosures and eight TSW218 subs, the Turbosound Flex Array System represents the latest in line array technology and a significant milestone for our business.
Able to be adapted for use as a line array system or as a point source, the Flex Array is suitable for indoor and outdoor settings.
This system allows Totally Sound to provide an even greater level of live audio production to our clients.
Contact us today to find out more.